We Ship Worldwide!

Secure
Shopping Cart by

Excellent eBay feedback!



Since 2007 we have strived to make eXtremePrelude.com a place for all Honda Prelude enthusiasts as a source for valuable information, a place to discuss our favorite hobby as well as a place to find guaranteed OEM parts, and much, much more.

This site started out as a simple school project in 2005 and wasn't even published. Since then we have vastly improved our site to better suit our visitors and continue to do so every day. We have been Prelude enthusiasts ourselves for years now, so we share the same addiction...errrr, passion as our visitors. We've also been an active member of many Prelude online forums, sold parts on eBay, Prelude forums, Craigslist, etc. and have a very solid reputation in the Prelude scene.

We are open to posting your Prelude content on our site! Let us know if you would like to contribute installion instructions, videos, etc!


Big THANKS to all of our supporters and customers! =]
-- Bill / eXtremePrelude.com Owner --
Why choose us?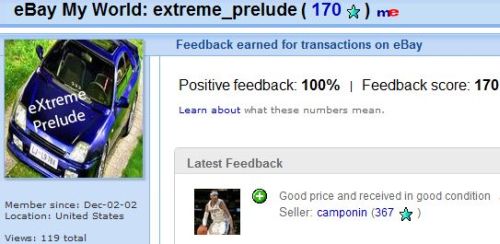 We have perfect feedback on eBay as well as every major Honda Prelude forum! Visit our
eBay feedback page
for more info. We treat you respectfully with honest product descriptions, timely shipping and reliability.



Located in South Charlotte, North Carolina we are a small business operated from our home. Since we rely on the internet as our business storefront we can only offer email as a means of communication at this time. Our contact email is
sales@extremeprelude.com
and we will do our best to email you back as soon as we can.
Store

Engine

Exhaust

Exterior

Interior

Misc.

Suspension

Wheels