We Ship Worldwide!

Secure
Shopping Cart by

Excellent eBay feedback!




For all parts inquiries, please contact us through the form on our Contact page. If you have any questions, please feel free to ask!
Our payment options include PayPal (3% fee if used) which we prefer. A PayPal account is not required to send debit/credit payments securely. Cash is accepted for local pick-up only (in Charlotte, NC). Full payment is required before your order ships. We reserve the right to delay the shipment of your order until PayPal eChecks, etc. clear.

Our secure shopping cart is handled by Mal's E-commerce. The shopping cart URL will read, "ww5.aitsafe.com."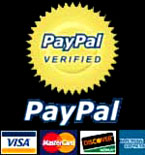 Parts are normally shipped within 1 to 2 business days from when we receive full payment (unless a part labeled as requiring an extra week for shipping was ordered). We ship to all 50 states in the U.S.A. as well as internationally. All international buyers need to contact us before buying, included shipping prices are for mainland U.S. customers only.

*Contact us for combined shipping on multiple parts prior to ordering*

Shipping will be through FedEx or the United States Postal Service unless the buyer has a preference. If you prefer a certain shipping carrier, signature confirmation, etc. please let us know. Different shipping speeds are also available if requested, and all shipping costs are covered by the buyer prior to the parts being shipped. Insurance is included in the shipping price for every order.

Our #1 priority is to satisfy our customers so we proudly guarantee that you will be happy with your purchase, or your money back. All parts are visually inspected prior to being shipped; however we may not always spot defects.
To qualify for a refund:
Contact us immediately to be approved for a refund.
Refunds will only be granted up to 30 days from the original purchase date.
Parts must be returned to us in the same condition as originally shipped.
When the parts are received by us, we will issue the refund for the exact cost of the parts returned.
Please note that shipping and PayPal fees are non-refundable and that the buyer is responsible for return shipping and insurance.

Used parts:
Used parts are 100% refundable as long as we receive the parts back in the same condition as originally shipped.

Brand new parts:
Brand new parts are 100% refundable if the seal on the box has not been broken. If the seal has been broken, these parts are 80% refundable.
*Disclaimer*
eXtremePrelude.com is not liable if something were to happen while installing/removing parts or if any of our parts malfunction. We are not responsible for parts lost and/or damaged during shipment. However, insurance coverage is included on every shipment.


Store

Engine

Exhaust

Exterior

Interior

Misc.

Suspension

Wheels