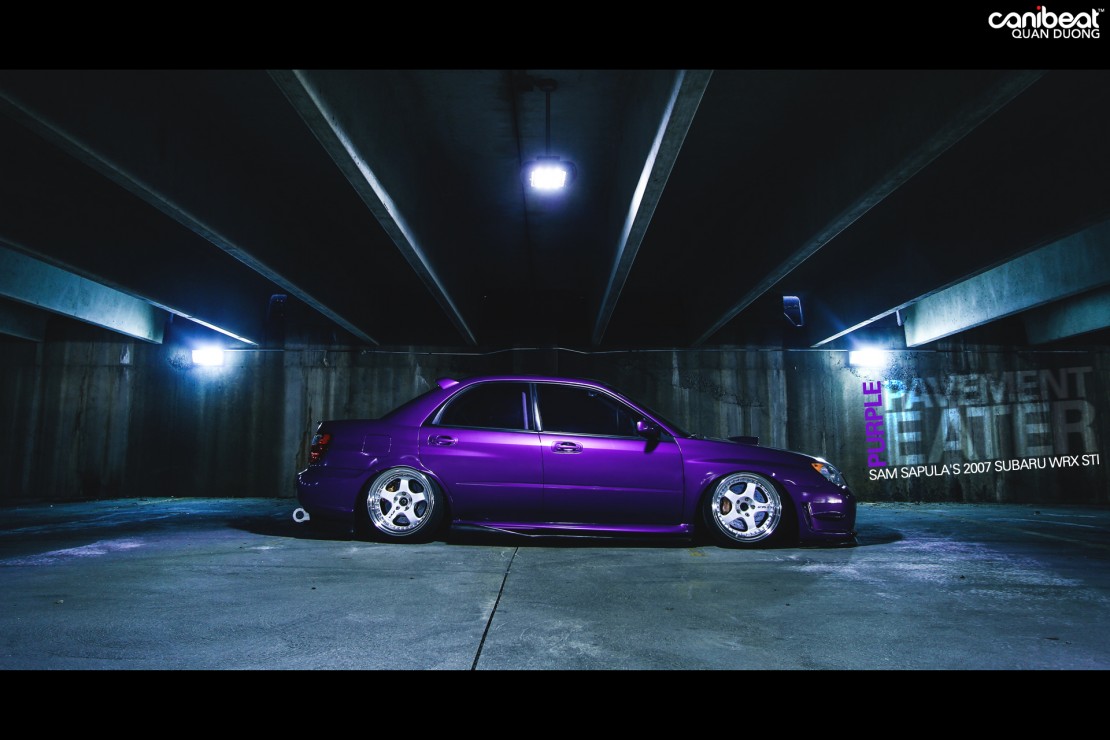 "So Sam, tell me… how would you describe your car?"
"Ummmm… A horribly obnoxious frame-on-the-ground static daily driver"
Over the years of my automotive adventures between writing, photographing, and attending events all over the states, I have met and befriended incredibly talented and skilled enthusiasts; and the occasional crazy cool kids. Sam Sapula is without a doubt one of those oddballs that you just can't help but buddy up with, and his STI is a car that is as maniacal as it is astounding. Talent, skill and straight up lunacy is what makes both Sam and his car impressively unique and quite truthfully, a reflection of each other.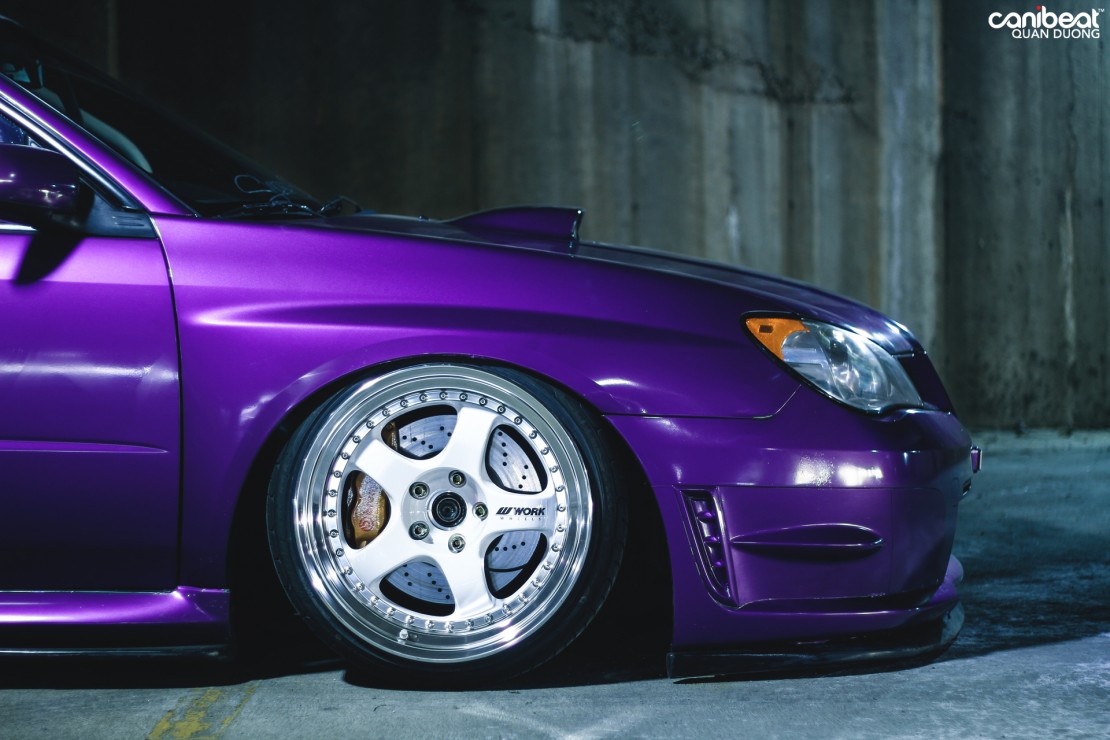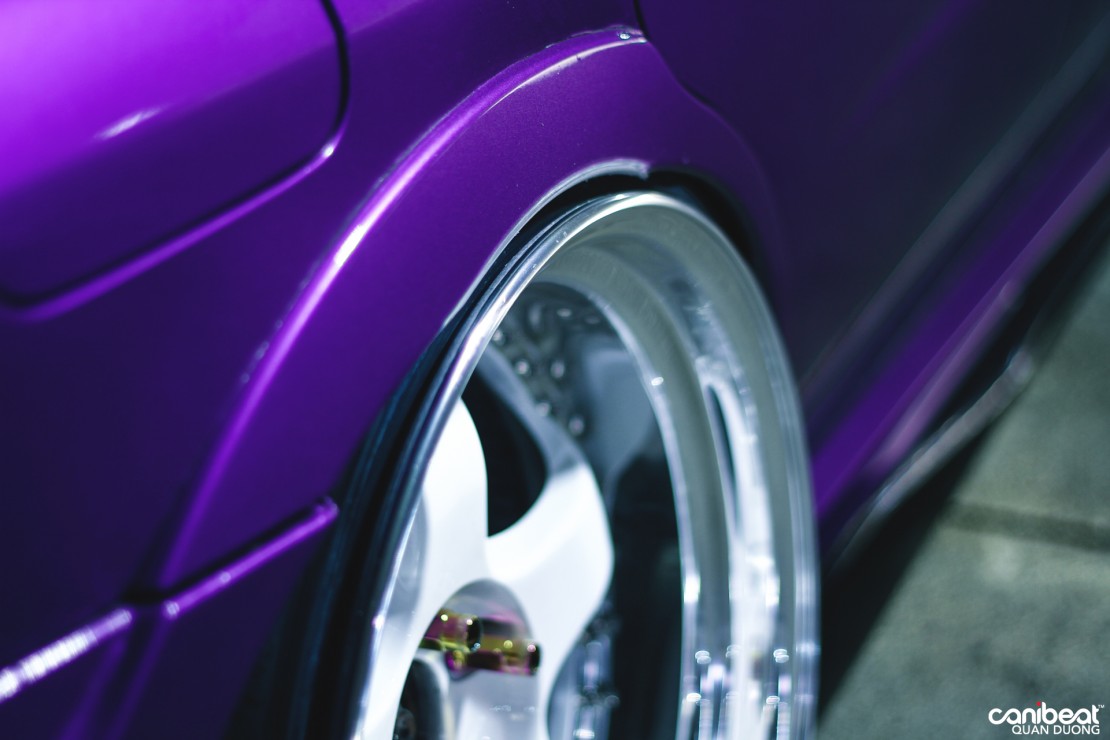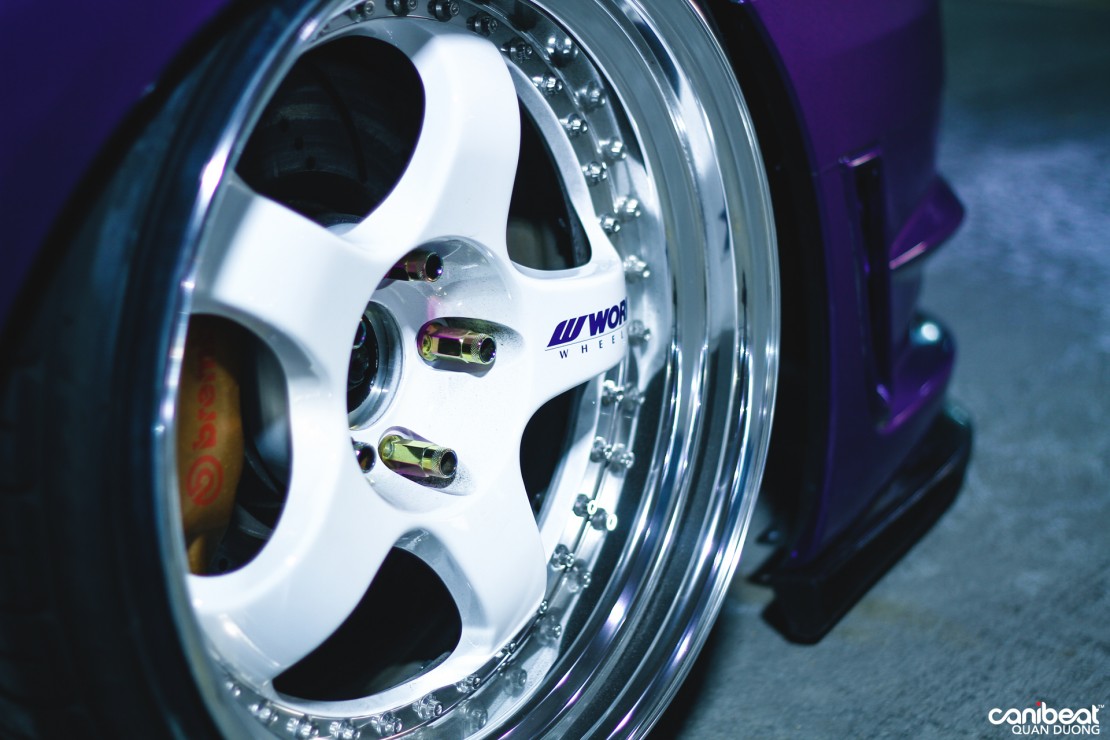 I wish i can say that Sam and I met years ago, and share stories about the build and the friendship that grew hand in hand… but I can't. Uninterestingly, the first time I laid eyes on Sam's STI was at Dubs on Defrost in CT and I was half-asleep and delirious from an all-nighter, freezing from the bone-chilling wind snuggled into my peacoat with tears in my eyes. "How attractive.", I thought. As I shuddered in the cold dreaming of hot coffee, I turned to where a commotion started to rise and there appeared a purple figure, floating millimeters above the pavement, swallowing the pebbles and grass that were in its way. My eyes widened and my jaw dropped. It was the purple pavement eater.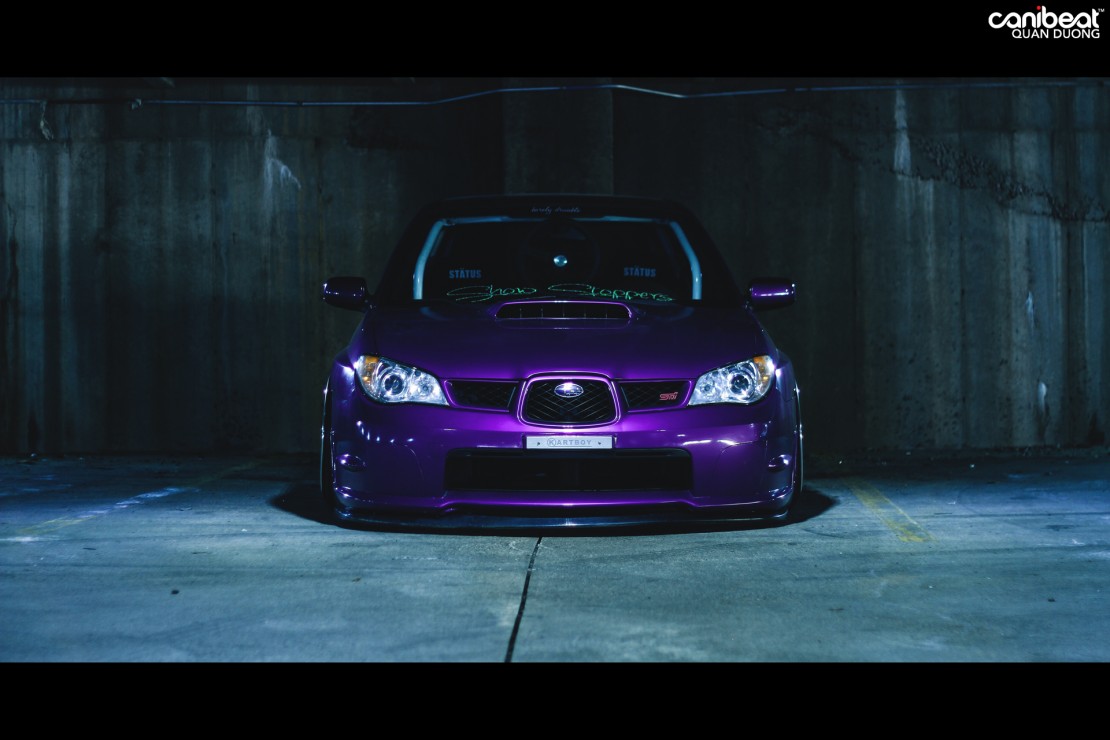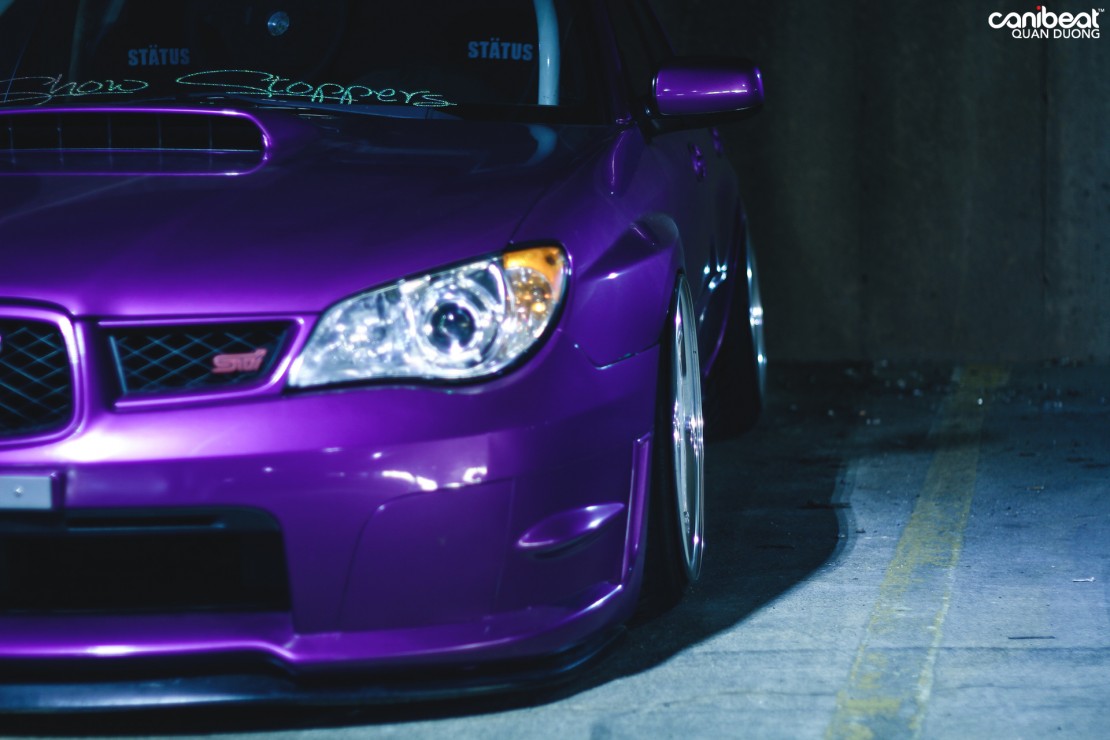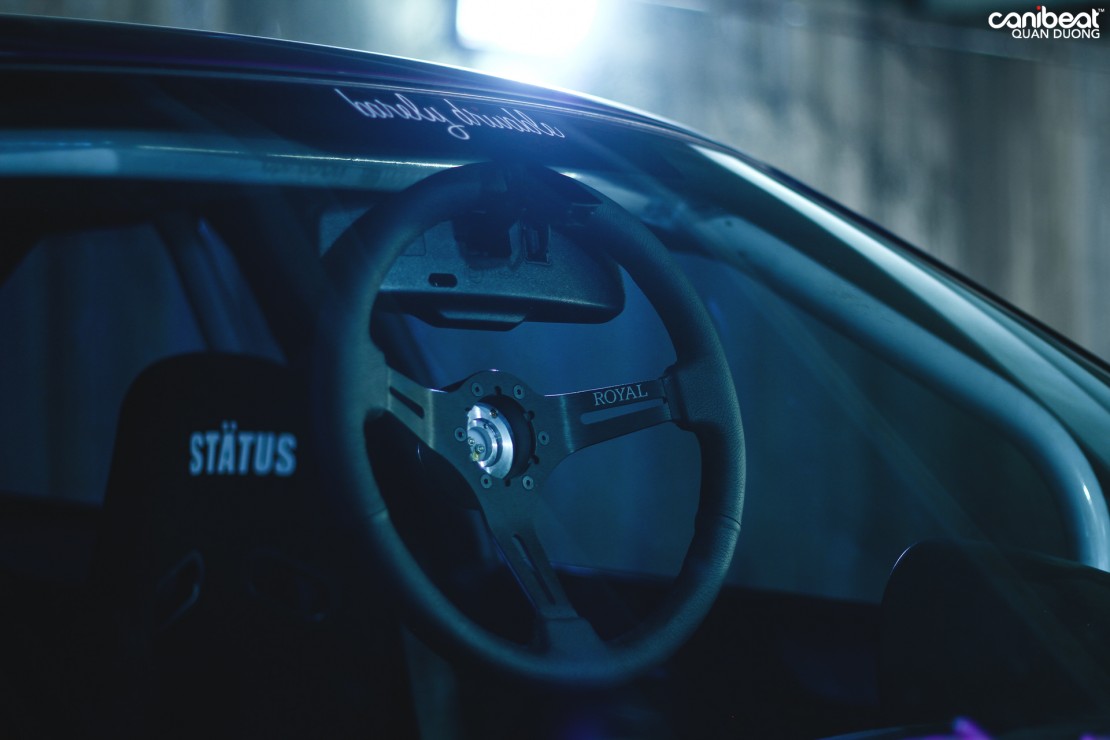 Circling this STI and admiring the work, it would appear as if Sam has been working on Subarus for quite some time. Surprisingly, previous to the sti, Sam was a Euro guy. With an impressive lineup of Volkswagens under his belt, including a MK4 Jetta, GTI, and an R32, it was rather unexpected to find a silver 2007 WRX STI sitting in his driveway. Ready to explore the JDM culture, Sam went to work, starting mildly, with caution to the unfamiliar structure and anatomy of a Japanese vehicle. Having only about a month until the infamous weekend of H20i in Maryland, Sam's agenda for the car was limited. Despite his time crunch, Sam fit Varrostoen 1.1.1′s on the body, running 18×10.5 et22 all around, pushing the boundaries of what most STI owners run as far as width and offsets. As the show season came to an end for the year, the STI tucked away with the garage doors closed behind it, and the purple project went underway.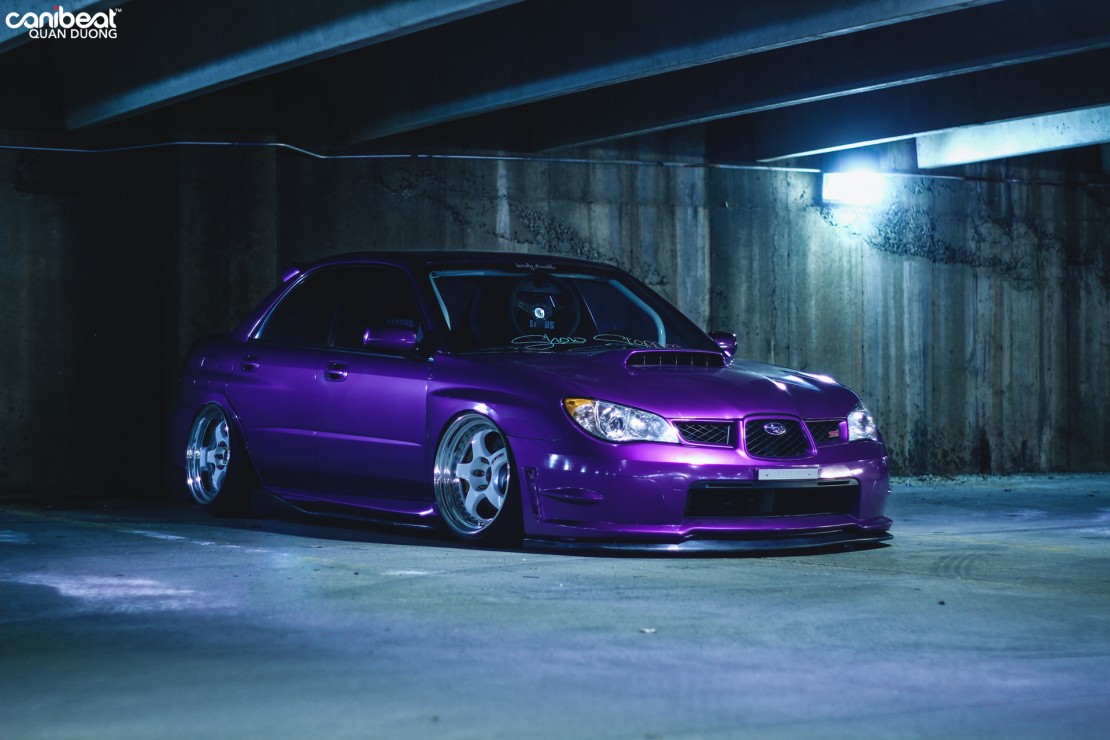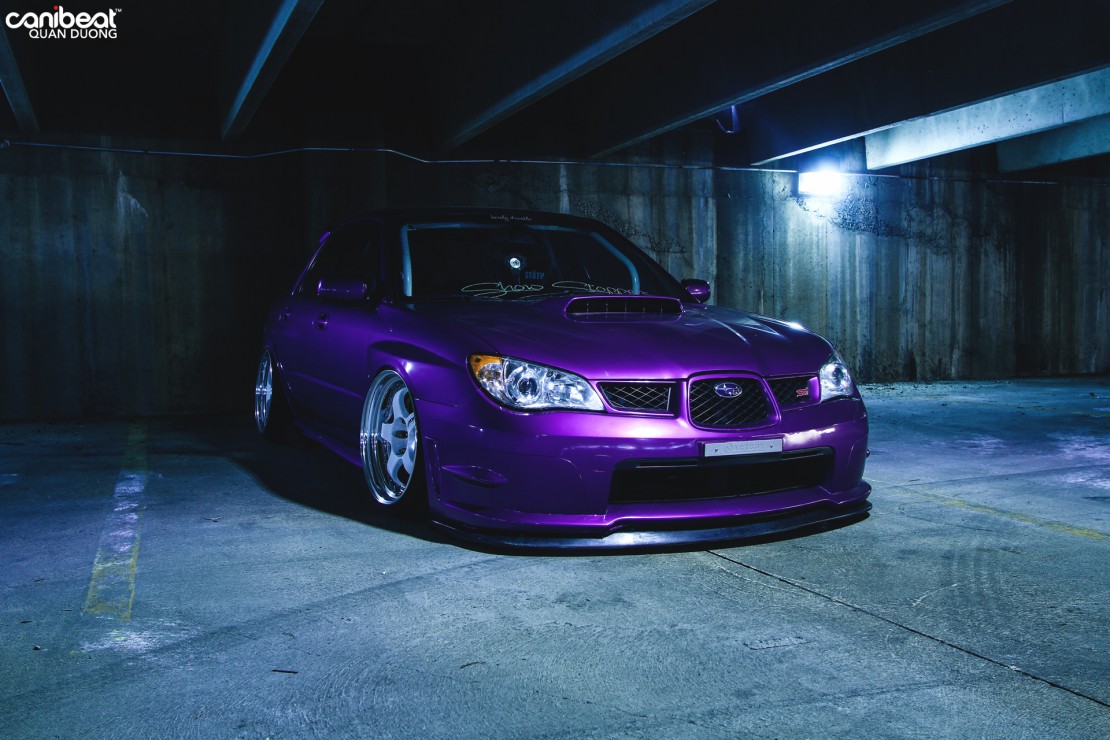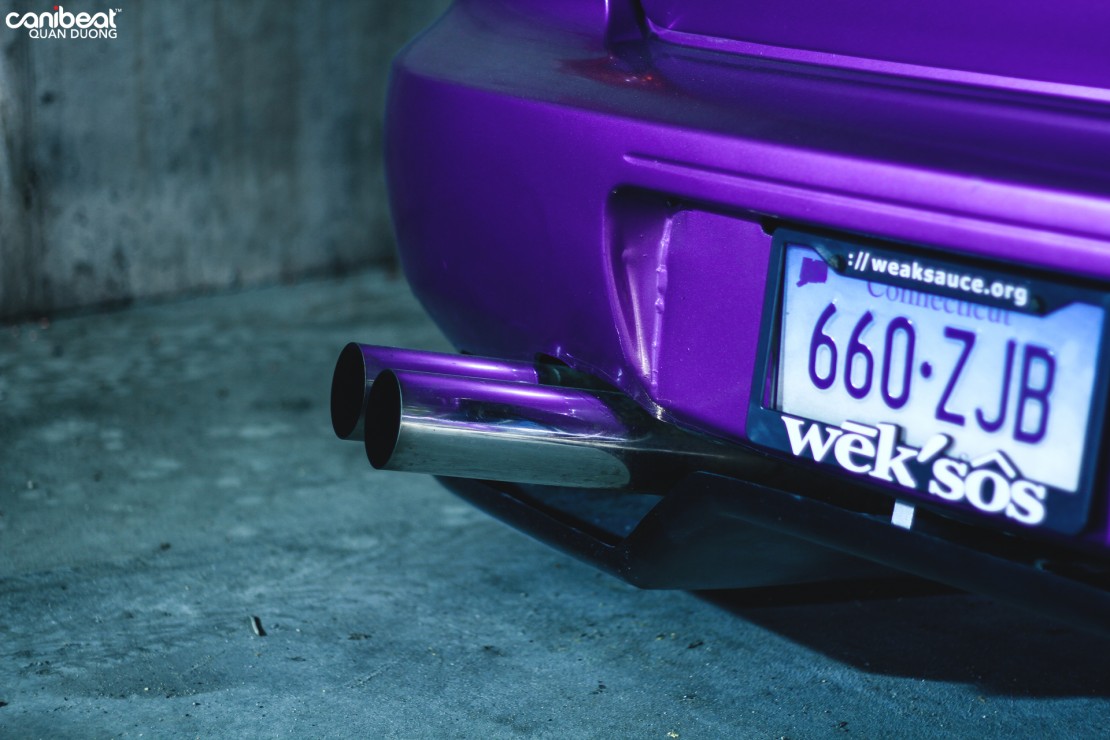 Wood, low jack, jack stands, all checked. The Varrostoens were removed from the car and placed along the walls of Sam's garage, with four Work boxes carefully stacked on top of each other in the corner. Adding up to 20+ hours of fender work and another 15 hours of suspension work, grinding and cutting consumed those long nights that usually last well into dawn. If you've ever spent a week straight of all-nighters in the garage, you know the feeling of exhaustion mixed with satisfaction all too well. In the end, the hard work and sleepless nights paid off as Sam placed his new Work Meisters on the car and grinned ear to ear to see the results. Running 18×10.5 et17 all around, with 3.5″ lips in the front and 4.5 in the rear, seeing this fitment is nothing short of miraculous. Something so good doesn't come easy, as Sam struggled to keep his fitment flawless while being as low as he was. The battle between fitment and stance results with his inner front fender tube being 1mm from his 225/35/18 federal ss595 tires. A credit card can barely fit between his fender and his tire. Yes, we've all seen photos of credit card fitment but think of the last time you've seen a photo where the card can't even make it in…yeah. Thought so.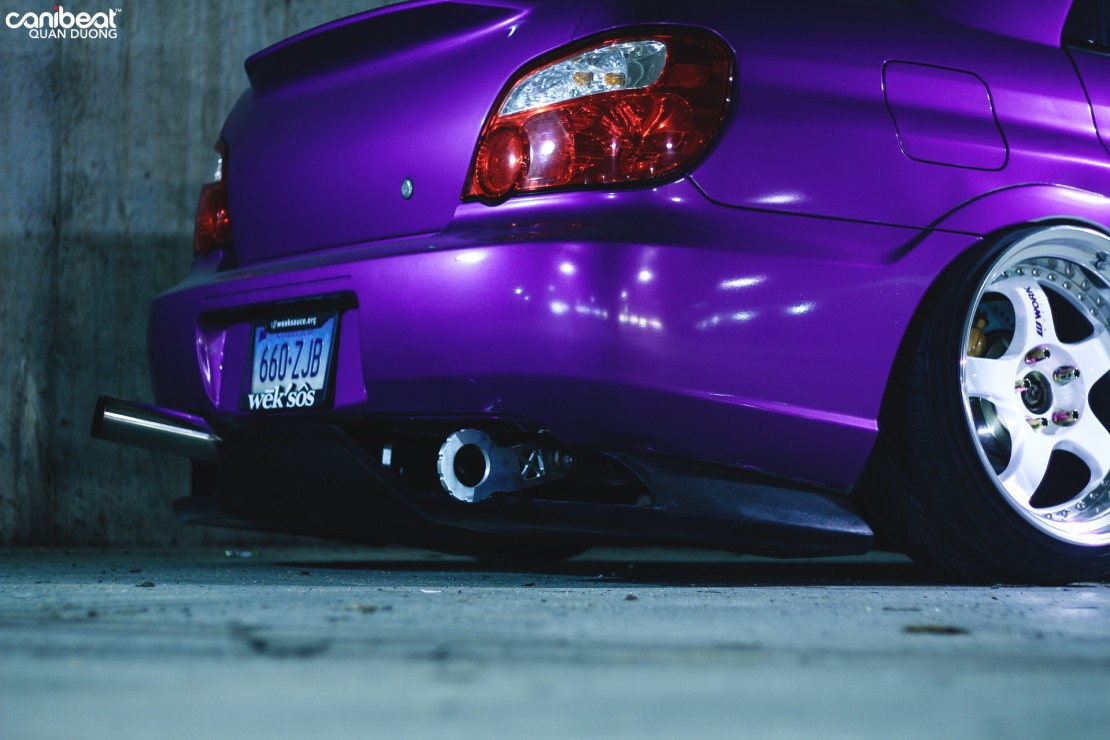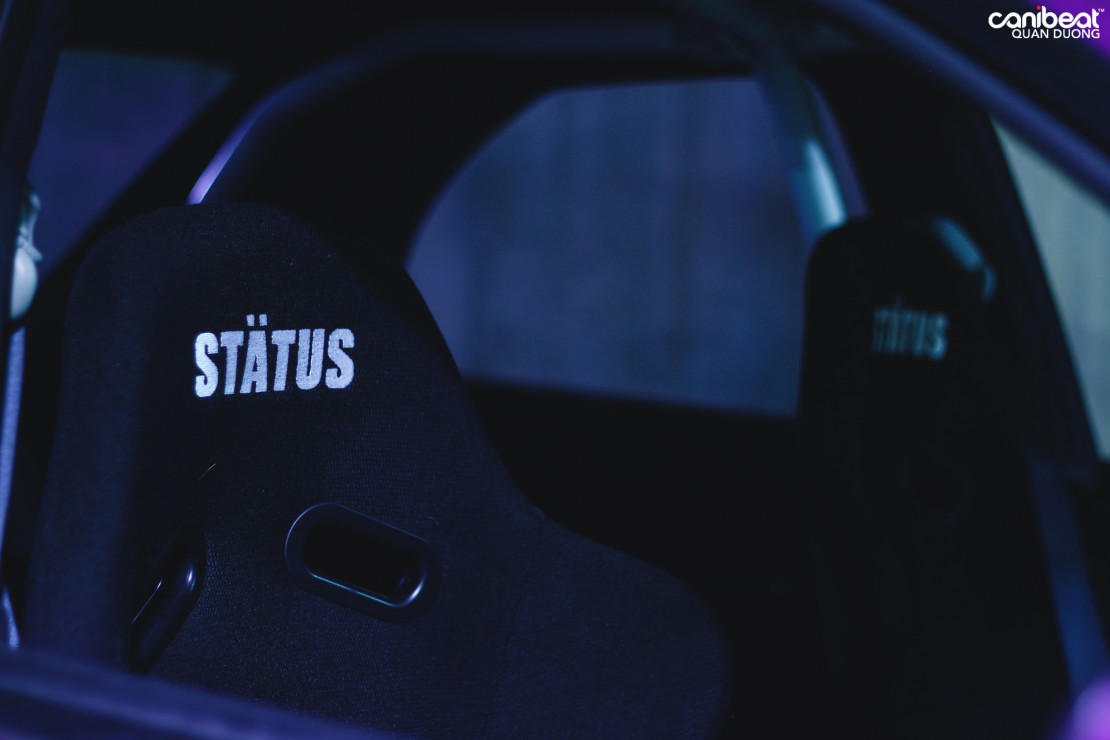 As the dreadful winter was pushed away by warmer weather, the garage doors lifted up to reveal the STI in a whole new light. The silver STI that parked inside months ago sported a fresh Oracle Metallic Violet vinyl that shocked the wavelengths as soon as you laid your eyes on it. The Chargespeed bottomline V1 front lip, V2 side skirts and Voltex rear diffuser placed the body on the ground. No lip lows here. On the way to Dubs on Defrost, one of his side skirts ripped off from a gnarly bump on the highway and was left on the side of the road. Laughably, on his way home after the show, Sam spotted his side skirt on the highway and recovered it back into his possession, just not in the shape it was before. At a recent show, Staggered in Somers, Sam pulled into a spot on the field only to be halted by a crowd warning him not to drive any further. The grassy lane had ripped his front bumper off and the purple pavement eater turned into the purple bumper eater. Sam's response: "It happens on a daily basis."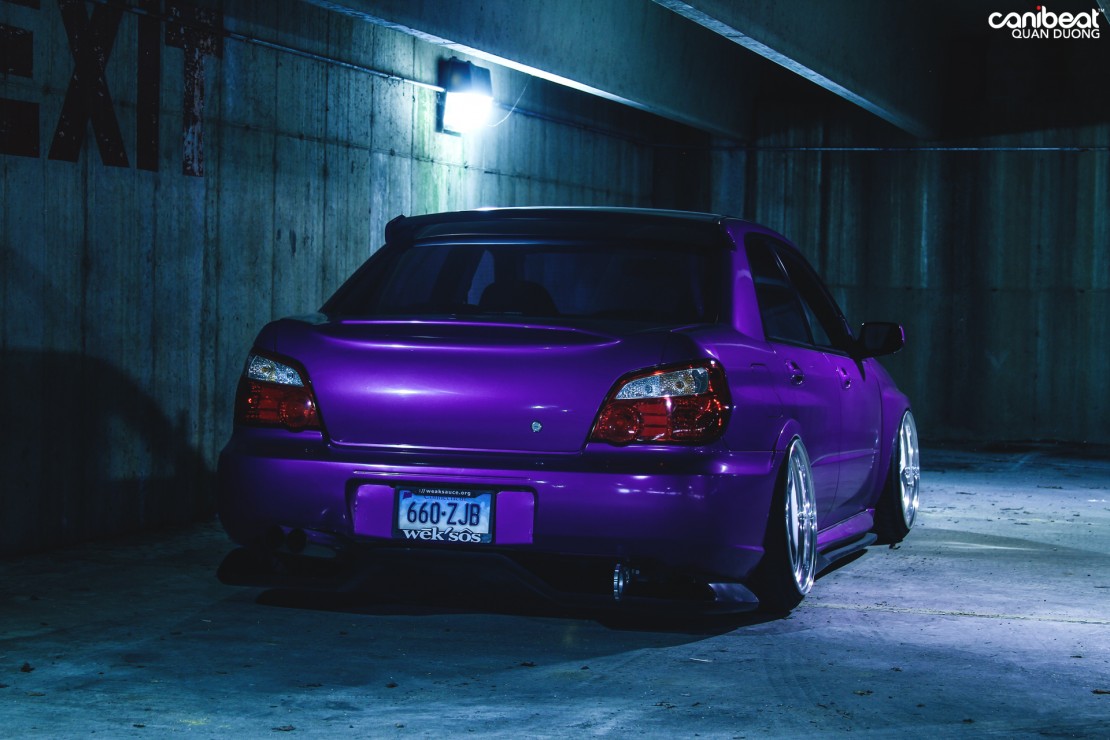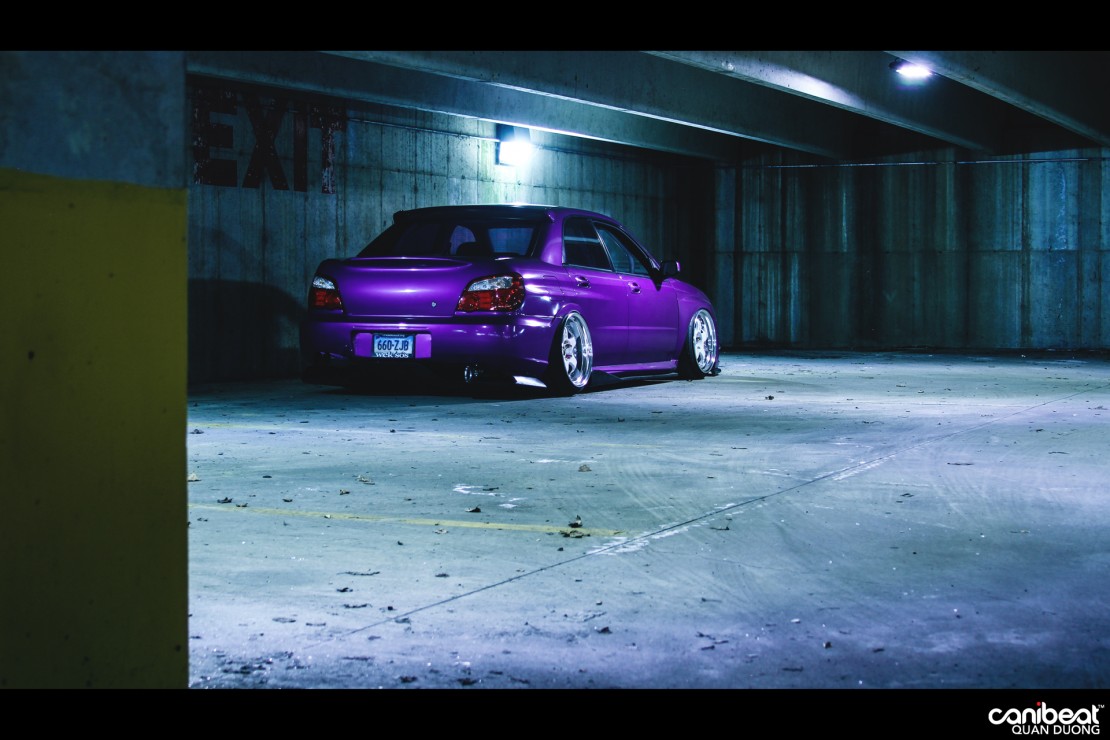 We see tons of young'uns these days with BMWs and MK6 whips, and i sit here aging with my rusty Honda and wonder where I went wrong. But Sam Sapula is not your ordinary kid. At age 12, he started working in a BMX shop and grew his working his way into retail management at 15. By 18, Sam was managing his own store and also pursuing a career in tattooing. Now, at 19 years old, there is no question on how Sam acquired this STI. "There was no cosigner, nothing other than great credit from my previous cars and a hefty ass down payment. This is no mommy-daddy kind of situation." As bizarre as his STI may be, it is also a daily driver. Commuting over 100 miles on most days between work and the tattoo shop, this purple STI is Sam's way of his livelihood and for that, we applaud his bravery and acknowledge a hint of insanity in there as well. Yes, Sam has certainly made a name for himself and the same can be said about his STI. We suspect that it may not be everyone's cup of tea, but it surely is ours. Fatuous and mind-boggling, but yet strangely serene, its uniqueness and overall beauty makes this car an incredible piece of work.
Engine
Custom Turbo back straight pipe with isis blast pipe
Stage 2 engine management
Agency Power Short Ram
Exterior
Chargepseed bottomline v1 front lip Replic
Chargespeed Bottomline V2 sideskirts
Voltex rear diffuser Replica
Oracle Metallic Violet vinyl
VIS Do Luck Demon trunk
Interior:
Status Racing Ring & Gt black cloth seats
Grip royal dark knight steering wheel with Nrg hub and quick release
Cusco cage painted white
Re wrapped headliner/pillars/door cards black suede
Reupholstered rear sti seat steel grey alcantara
Teal 150mm bubble shift knob
Kenwood single din headunit
Alpine Type R Speakers front & rear with hybrid fiber poly tweeters
Alpine 600 watt amp powering speakers
Suspension/Wheels/Brakes:
Stance Gr+ Pro custom coilovers
Shortened dampers front and rear
12k front spring rate 16k rear spring rate
Camber plates front and rear
Slotted rear strut mounts for camber
Cusco front and rear strut mount bars
Whiteline 27mm rear sway bar
Whiteline heavy duty rear end links
Work Meister s1 3pc 18×10.5 et17 3.5″ front lip 4.5″ rear lip
-3.7 front camber -6 rear camber
225/35/18 federal SS595 tires