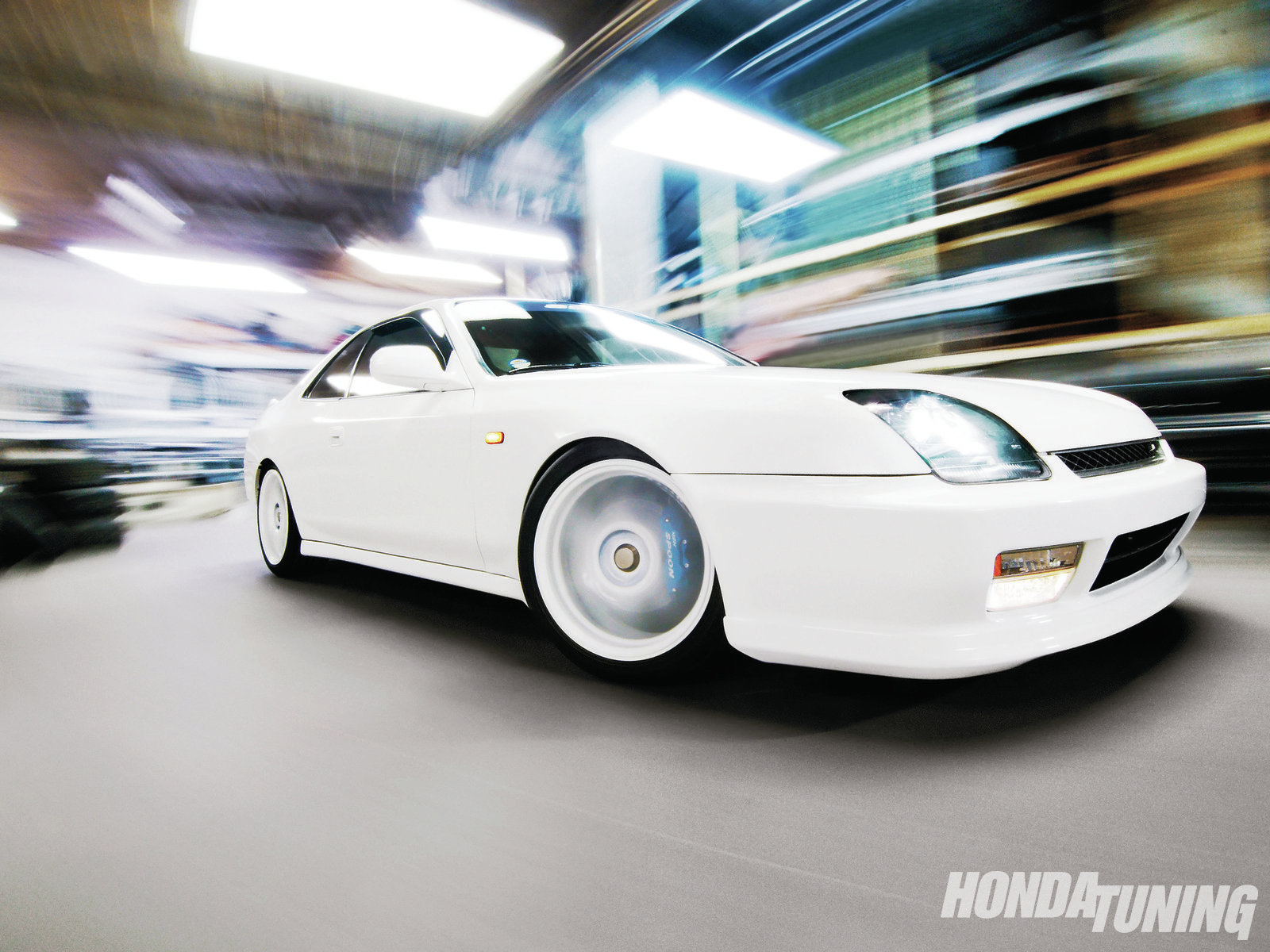 From the Spoon brake calipers to the type-s wing, down to the JDM cup holder, everything is authentic JDM. Justin's JDM Prelude was just featured in the November issue of Honda Tuning, and for good reason! Chances are, if it's rare or JDM, it's on this car.
We couldn't help but notice the subtle mods that only your true Prelude nut would notice. Things such as the type-s body panels and spoiler, JDM gunmetal grill and of course the SiR red interior. You have to admire mods that won't be noticed by the majority, a true fan of the BB6.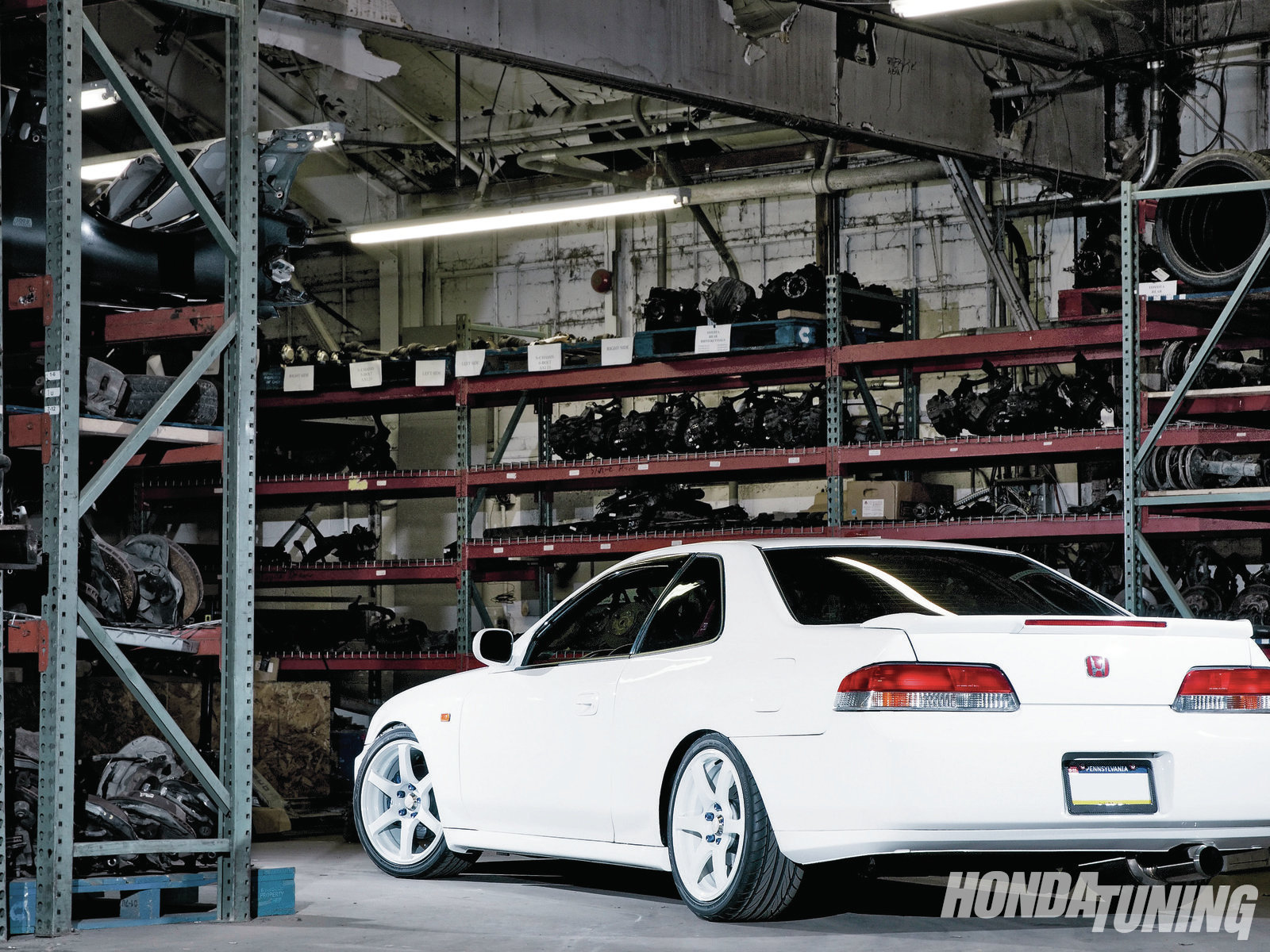 In a twist of fate, a hail storm put a dent (or many) in his plans. Luckily Justin's insurance company took care of him and gave him enough money to fix and repaint his entire car (with the new JDM body panels) Grand Prix White.
Next comes the custom parts such as the carbon fiber door sills and armrest, Versace fabric covered headliner as well as TSX projector retrofits. Attention to detail makes this Prelude stand above the rest as one of the best we've ever seen.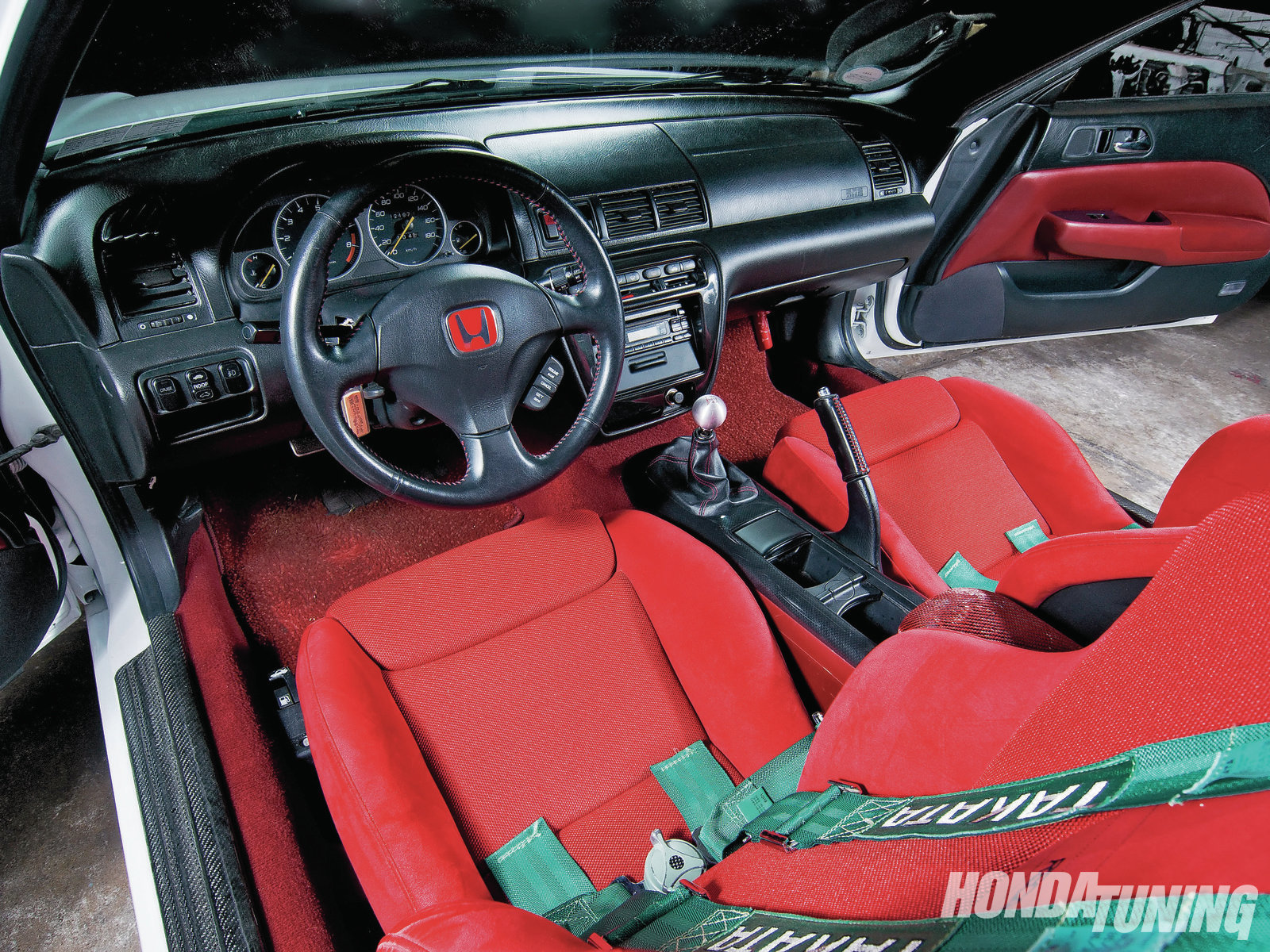 Here is the full mod list:
Propulsion
H22A4
JDM Prelude Type S intake
K&N drop-in filter
Mugen header
Custom test pipe
Mugen twin-loop exhaust
ClutchMasters FX100 clutch
Competition Clutch 15lb flywheel
Fidanza short-throw shifter adapter
Unorthodox Racing underdrive pulleys
JDM Prelude Type S valve cover
TC Sportline carbon-fiber spark plug cover
Samco radiator hoses
Spoon Sports spark plugs
Spoon Sports radiator cap
Spoon Sports oil cap
Spoon Sports reservoir socks
Spoon Sports magnetic drain plug set
Mugen thermostat
Mugen fan switch
Skunk2 VTEC solenoid cover
Blox 02 CEL eliminator
Optima Red Top battery
Tein hood dampers
Stance
Tein Flex coilovers
Suspension Techniques antiroll bars
Spoon Sports shock tower bar
IL4 5mm spacers
Resistance
Spoon Sports calipers
EBC green stuff pads
EBC Ultimax BlackDash rotors
Goodridge stainless steel brake lines
Honda brake fluid
Wheels And Tires
17×7.5 +40mm offset Yokohama AVS Model T6
215/40-17 Yokohama S. Drives
Exterior
Grand Prix White paint
Depo black housing headlights with TSX projectors and E46 bezels
JDM Honda Access grille
JDM Prelude Type S hood
JDM Prelude Type S front bumper and lip
JDM Prelude Type S fenders
JDM Prelude Type S side skirts
JDM Prelude Type S rear bumper
JDM Prelude Type S flush-mount spoiler
JDM Prelude Type S power folding mirrors
JDM Prelude Type S window visors
JDM Prelude Type S taillights
JDM Prelude foglights
Interior
JDM EP3 Recaro front seats
Wedge Engineering brackets
Recaro sliders
Takata harnesses
Sparco harness bar
EP3 Civic Si steering wheel
JDM Prelude Type S gauge cluster
JDM carbon-fiber gauge bezel
CTR shift knob
ITR shift boot
JDM ashtray
JDM cup holder
Custom red "Versace" fabric headliner
Custom red "Versace" fabric package tray
Custom red carbon-fiber armrest
JDM SiR floor mats
JDM SiR carpet
JDM SiR center console
JDM SiR door panels
JDM SiR rear seats
JDM Prelude Type S leather hand brake cover
Mugen pedals
Electronics
Gathers speakers
Via: Honda Tuning